Factor 11 Releases Time Machine. Taking on the PC Culture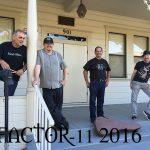 FOR IMMEDIATE RELEASE
San Rafael, CA 94949 — January 2, 2017 — With its latest release: Time Machine, Factor 11 brings guitar driven harmony rock while taking a poke aimed at the PC Culture. With songs addressing workplace oppression, political correctness and the known fact that good looking people drink wine and bad looking people drink beer, there are no sacred cows here! A veteran Northern Cal. band of 14 years, Factor 11 delivers a fresh take on classic rock in a very 21st Century Way. Get on board the Time Machine and take a journey with Factor 11.
Tired of the same old, Factor 11 brings a combination of musical styles together in a way that entertains and keeps your interest, while they try and get listeners to unplug from the Matrix with thought provoking lyrics. Check out Factor 11's Time Machine: Love or hate the message, you will enjoy the ride.
One satisfied venue operator in Northern CA had this to say about the band: "Their energy is contagious and their music outstanding" (Monique Anderson Music Coordinator, City of San Rafael Downtown Farmers Market Festival).
Time Machine will be released on December 25, 2016. You can find Factor 11's music on ITunes, YouTube, CD Baby and Amazon or at: www.factor11.org/
Go to the band's website at www.factor11.org/ buy any one song and get another free. Alternatively, buy a song at CD Baby and send the band proof of receipt and they will email you another song free.
Factor 11 has been together for 14 years. Band members generally do not like the same music. The bass guy loves country. Lead guitar is a rocker. Rhythm is a choir director. Drummer is power rock. With a diverse group like this, it is surprising that the band stays together. The essential ingredient is that band members like each other, respect each other's' musical differences and blend them into the band's performances and recordings. Check out the Live Performance set list and you'll see.
CONTACT
Factor 11
Spencer Scheer
509 Indian Way, Novato, CA 94949
415-3429696
sscheer@scheerlawgroup.com
Press Kit: http://www.artistpr.com/members/spencer-scheer/profile/
SOCIAL MEDIA
twitter.com/factor11band
www.factor11.org